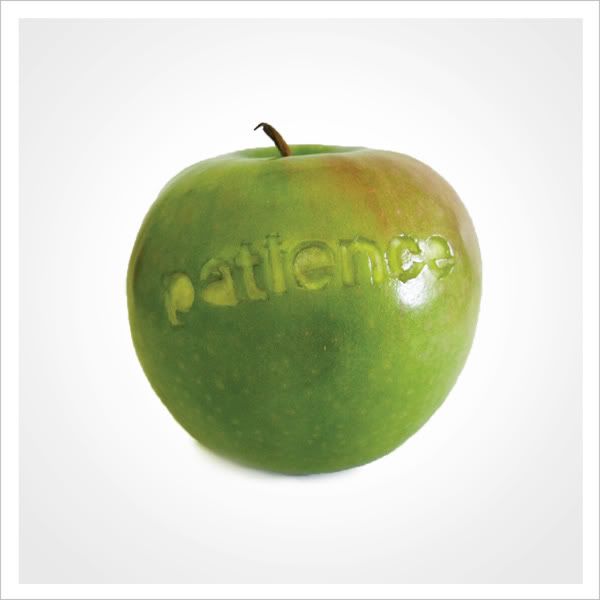 "But the fruit of the Spirit is love, joy, peace,
patience
, kindness, goodness, faithfulness, gentleness and self-control..." (Galatians 5:22-23 NIV)
I need to focus more. In this world, it is certainly easy to let my mind wander- "Wouldn't it be nice if I had...?" Jesus said it was simple: Just keep your eyes on the Father, and your nose stuck in His Word (not in other peoples' business!), and the fruit of the Spirit would just naturally emanate from you.
The other day, I was commenting that I "need to remember" that patience is a Godly trait. My friend
Daniel
reassured me with this: "We sometimes think about the fruits of the Spirit as things we need to work on, but in reality the analogy the apostle Paul was making is that these things just naturally flow out of our relationship with Christ, because the grower
doesn't try to make fruit appear on his tree; he has to focus on the tree itself (the relationship with Christ) and the bearing fruit follows when that is healthy."

At any rate, you and I should realise that our growth as Christians is a journey- not to arrive at perfection, but to get to know the Perfect One more intimately.

So why am I talking about patience being something I'm lacking? Well...drumroll, please... I GOT A JOB! On Monday, I started working at San Joaquin Community Hospital in the Health Information Management (HIM) department. I work as a "Document Imaging Specialist" from 1 - 930 PM, Monday through Friday.

But what does this mean? Here is the job description:
Summary of Duties-
The Health Information Management Document Imaging Specialist is responsible for preparing the medical records to maximize scanning efficiency. This position is also responsible for prepping and scanning all paper documents into the electronic document imaging system according to established procedures, guidelines, and productivity standards. The Document Imaging Specialist must understand the validation and completion of the Quality Control process, ensuring the integrity and legality of the EHR. This position is responsible for reviewing scanned documents for overall image quality and the accuracy of indices assigned during the scanning process as well as according to the time-frame requirements. Also responsible for the maintenance and preservation of confidential patient records. Conducts analysis of the electronic medical record for quantitative and qualitative completeness based on Medical Staff Rules and Regulations, State, The Joint Commission, and Federal Guidelines. Also responsible for the retrieval and filing of old paper records required for patient care, audits, release of information and other health care operation purposes.

Qualifications Requirements-
+1 year experience in a health information management position preferred
+Ability to communicate effectively (verbally and written)
+Ability to adapt to a rapid change in both internal and external environments
+Works well with others in a team-orientated environment, including support of other co-workers' job duties in a manner that further advances the goals and objectives of the whole organization
+Ability to work independently and perform effectively in a fast-paced, high-growth, rapidly changing environment
Now, this is all very new to me. You might have noticed that it says "experience in a HIM position preferred." Well, because I do NOT have that kind of experience (just experience in general office tasks), the last two days have been spent learning like crazy. I've found myself lacking patience with myself, I start up with the self-deprecation... and man, that just makes the work day miserable. I spent the first half of Monday really getting down on myself because I kept making little mistakes (well, duh, it's my first day!). After meeting Kevin for my dinner break, I decided that I was going to be positive, even if I mess up- and, can I just say, that made all the difference. Day two went by a lot quicker, and I wasn't so hard on myself. Like I mentioned above, this is NOT a journey to perfection! ;P


Anyway, I am really glad to be alive right now. I'm enjoying getting out on the bike, but most of all, I'm loving spending time with my mom (who has been coming out on rides with me). On Sunday, we went on a 25-mile ride, but on our way back, we stopped at the Elephant Bar for some snacks and something to drink. It was nice spending the day with her...and even the evening, because she has started coming with me to church! :) I tell you what, though- our "in-betweeners" (as my mom calls them) were certainly very sore! Haha.

Well, day 3 at work starts in a few hours. (Happy Administrative Professionals Day, as a side note!) I am looking forward to all that I learn today. What are YOU looking forward to today? ;)